RUSSIA
Jun 21, 2018 11:10:48 GMT -5
Post by GeneticBlend on Jun 21, 2018 11:10:48 GMT -5
Russia is 6th subject in the book.
THE TEXT

The boys are headed for earth, but they end up in Russia. Richard explains to Jorden that Russia is "the biggest country in the world". Richard explains a bit about Communism. At the end of the text, they say that they have to find out what the date is before they can get back.
THE POEM

Covers a lot of the history and the leaders of Russia up to the present
THE ILLUSTRATION

This is the only two-page illustration in the book. It shows statues of Lenin and Stalin. In the center is Saint Basil Cathedral (originally called Trinity Church) and a man with a horse and plough cart.
THE BORDER WORDS
The Great Bear
Russia from Rasputin to Putin
From Russia with love
Autocracy to Democracy
Image and Poem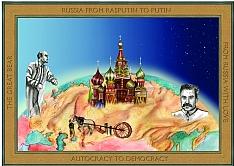 Many treasures come from Russia with Love
Among them, gymnasts soaring high above
Famous for the Bolshoi Ballet and Beluga caviar
Russia, at one time was ruled by a Czar
The Empress Alexandra, had a close friend
She believed Rasputin healed her Son, others did not comprehend.
Because of his association, they thought Rasputin had too much power
And so he was poisoned, beat and shot in his fateful last hour
But Rasputin before death correctly predicted
That the Royal family would soon be restricted
Czar Nicholas II was the last on the throne
Till Lenin led the revolution and he was overthrown
The Royal Family were herded together, lined up and shot
The promised family portrait photo shoot, it was not
After Lenin came Stalin, with his institutionalised terror
Millions were killed after purge, trial and error
Then came Khrushchev, hid his complicity and started reform
But would not tolerate Hungarian's who did not conform
Brezhnev came next with his muscles flexed
Invaded Afghanistan and suppressed the Czechs
His successor was Andropov, formerly head of the KGB
Introduced reforms, left a Korean airliner in a pile of debris
Chernenko, the caretaker was in charge for a year
A boost for his career, a return to austere
Under the idealist Gorbachev, the USSR ceased to exist
Glasnost and Perestroika, welcome at first, failed to persist
For ending the 'Cold War', he won the Nobel Peace Prize
But while in Crimea, a military coup staged a surprise
Yeltsin to the rescue, champion of democracy he climbed onto a tank
He led the resistance, protected only by his personality and rank
Now Yeltsin's man, Vladimir Putin, "He's no threat to Russian Democracy"
But recent events hint at a return to autocracy`
Copyright © 2004 Pete Wilder
All rights reserved (Permission Granted to MW to post here)