Post by GeneticBlend on Jun 21, 2018 11:49:08 GMT -5
Columbus is the 19th subject in the book.
THE TEXT

As they travel in time, Richard tells Jorden about Atlantis, and a Mayan pyramid which was a calendar. As they reach their destination, Richard recognizes it is the Santa Maria, and it is when Columbus discovered the New World, America. They talk about their trip to New Jersey with their parents, and their dad made a trip to New York while they were there. Then Richard turns the dial.
THE POEM

It is about Columbus' voyage and search for the New World. Rodrigo de Triana was the first to spot land. This proved that the land was not flat, it was round.
THE ILLUSTRATION

Shows a ship nearing land. The ship has a red and white flag, with two red squares and two white squares. The land has palm trees, but in the distance there are snow-capped mountains.
THE BORDER WORDS
Columbus sailed the ocean blue
His men were afraid to fall
Over the edge
We all fall down
Image and Poem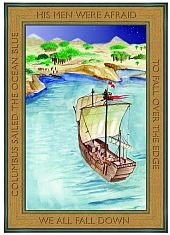 His voyage was sponsored by Spanish Royalty
The book of privileges was reward for his loyalty
Sailed to the West where no European had been
And finally arrived in the Caribbean
Out of sight of land for many a long day
The crew was restless and afraid
All manner of discipline was needed to keep them in line
Until their fears were allayed
On October the 11th, there were signs of encouragement
Seaweed and plants from the land
The natives came rushing with gifts of all kind
It wasn't long till they stood on the sand
Rodrigo de Triana saw the New World first
They raced for the shore with one final burst
'Twas Asia where he thought he'd arrive
And continued to believe all the time he was alive.
When he left Spain doubters were many
But now he'd returned there weren't any
This new found knowledge, to the four winds was scattered
And the concept of a flat Earth was finally shattered
Copyright © 2004 Pete Wilder
All rights reserved (Permission Granted to MW to post here)