Post by GeneticBlend on Jun 21, 2018 10:46:02 GMT -5
The Big Bang is the 3rd subject in the book.
THE TEXT

Jorden, the younger brother with no fear, turns a handle that is in the floor of the time travel machine. The handle has the letters, "GARSTT" on it. As he turns the handle, he opens a hatch that leads to a massive, shiny room with huge TV screens all along the walls. The room was full of hi tech equipment. There were corridors leading in every direction. In the center of the room was a control panel. A plaque identified it as, "Gravitational Amplifier for Relativistic Space/Time Travel" (GARSTT). There was a keyboard and more controls, and a dial. When Richard looked at the dial, there was a 4-digit panel alongside the dial. He thought it was for setting the year. The boys have a conversation about the future, and about how the universe is always moving.
THE POEM

The poem begins with "Dead or Alive", then mentions Quantum Theory, Heisenberg's Uncertainty, Pauli's Exclusion. It goes on to describe the "Big Bang", or the beginning of galaxies. It ends with, "Gravity is the uncertainty!"
THE ILLUSTRATION

Pictured is a Siamese cat, sitting upright in a clear box. Behind this cat, is another cat, but it appears almost ghost-like, or see-through. This second cat is slumping over from its upright position. The corners of the box are highlighted with what appear to be solar flares. The box itself is floating in outerspace.
THE BORDER WORDS
Look in the box to find the answer
Uncertainty all around
Don't rush to form a conclusion
Gravity is the uncertainty
Image and Poem: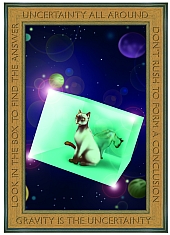 Dead or alive that's the question
Quantum theory teaches a lesson.
Heisenberg's uncertainty, Pauli's exclusion
Are they a principle or just an illusion?
In the beginning there was a grand unification
Pure energy in infinite concentration
Size was zero but uncertainty, the hero
Came to the rescue and soon the Universe was born
A fantastic eruption, perfection corruption
A swarm of charged particles causing massive disruption
Uniformity occurred because of inflation
Its signature can still be detected in the background radiation
A primordial fireball, a plasma of high energy photons
First quarks were confined, allowing neutrons and protons
After one million years, the era of recombination
Heralded Hydrogen and Helium formation
Gravity created stars of the first generation
Supernovae exploded, thereby re-creation
Galaxies and clusters formed from density fluctuation
Receding to this day, with red shifting radiation
Galaxies are swirling, Black Holes are storming
Stars are burning, elements are forming
Neutrons, Protons, Electrons and Quarks
Sub atomic particles create electric sparks
Copyright © 2004 Pete Wilder
All rights reserved (Permission Granted to MW to post here)