Post by GeneticBlend on Jun 21, 2018 11:23:02 GMT -5
The Crucifixion is 8th subject in the book.
THE TEXT

Again, we have Richard explaining to his little brother, Jorden, what the scene outside the time travel machine is. Richard describes the Crucifixion as "the defining moment in history", and that "Christianity was born out of this moment." He talks about how Christ rose from the dead, and Easter. Richard also mentions the Romans, and how there are still roads that exist today, and that they invented the Roman Arch, aquaducts, and sewers. They also bring up that their dad worked on a Y2K project.
THE POEM

The poem touches upon some of Jesus's miracles, the Last Supper, the Stations of the Cross, the Crucifixion, and Pontius Pilate (which was misspelled as "Pilot"). There are a lot of numbers in the poem.
THE ILLUSTRATION

The illustration shows Jesus on the cross, surrounded by mourners, and one Roman soldier who holds out a sponge toward Jesus. We can also see the other two theives also crucified in the background.
THE BORDER WORDS
Who is this holy man?
Upon the cross
The woman* wail
At such a loss
*woman should be women (confirmed as a typo by Pete Wilder, author)

Image and Poem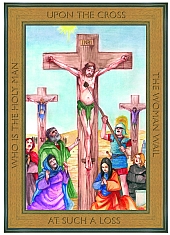 Jesus suffers upon the cross
The women wail at such a loss
The saviour of humanity upon a ghastly erection
On the third day comes the resurrection
By Jewish tradition, Pontius Pilot was allowed
To free a prisoner confirmed by the crowd
"Barabus" they cried, Pilot washed his hands and sealed his fate
Only four days before he was adored at the gate
He rode into Jerusalem upon an Ass
Palm leaves were laid by the crowd en masse
One man picked up his bed, Lazarus rose from the dead
With two fishes and five loaves of bread, five thousand were fed
Miracles occurred every day
Soon would be the time to pay
He had done the Lord's beckoning
At hand was the day of reckoning
At the last supper, thirteen in attendance
One left early to rid his dependence
For thirty pieces of silver, Judas betrayed
And Peter thrice denied, before the cock's dawn raid
The next day brought the trial and tribulations
He bore the cross through the fourteen stations
At eleven he was nailed to the cross
The women wail at such a loss
Copyright © 2004 Pete Wilder
All rights reserved (Permission Granted to MW to post here)