Post by GeneticBlend on Jun 21, 2018 11:37:05 GMT -5
The Great Plague is 9th subject in the book.

THE TEXT

The time machine lands in London during the bubonic plague, which was spread by fleas carried by rats. Richard explains how if anyone in a family was sick, a red cross was painted on their door, and they were not allowed out until after 40 days had passed. Thousands of people had died, and the bodies were carted away and thrown into pits to be buried.
Richard studies the controls to try to work out how to get home. He finds one with a T and one with a V, and one that says HYPERDRIVE. The boys feel homesick. Richard suddenly remembers that there is a safety recall device that rewinds everything back to the beginning and he starts to search for that.
THE POEM

The poem describes the Great Plague of London and mentions a small Village of Eyam where the Lord Mayor contained his people and kept the plague from spreading to other villages. It also mentions the Great Fire of London.
THE ILLUSTRATION

We can see a village, some doors have red "Xs" on them. People have their mouths covered. There is a cart full of dead bodies. Children dance, holding hands, in the street. In the distance we can see smoke rising. We can also see a Pied Piper in the distance in the center of the street.
THE BORDER WORDS
Ring A Ring O' Roses
No smoke without fire
A pocket full of roses
We all fall down

Image and Poem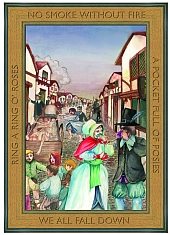 The plague is at its height
The rats have caused this plight
The cart man collects dead bodies
Yet the children dance with delight
"Bring out your dead," the cart man said
Bodies piled on by the score
Houses were marked with crosses of red
Painted on the front door
Nobility and gentry left the City in droves
To the poor, the City gates were closed
A Certificate of Health was required to leave
Without this document they would have to stay and grieve
The Lord Mayor declared, "Kill all the cats"
Natural predators of those filthy rats
The situation went from bad to worse
The children began to sing a little verse
A village called Eyam was infected with the disease
By a parcel of clothes infested with fleas
The vicar was able to contain his flock
Preventing the disease from running amok
London town will soon burn down
In the ashes the disease will lie dead
In Pudding Lane some lay the blame
Where the baker bakes his bread
Copyright © 2004 Pete Wilder
All rights reserved (Permission Granted to MW to post here)