Post by Jenny on Jul 21, 2018 6:41:34 GMT -5

UPDATE: 8/4/18 All puzzles solved and prizes claimedA new Armchair Treasure Hunt by The Art of Hidden Messages! Below is the email and images sent to MW for announcing this exciting new hunt! Join the Fun and Adventures!
From Beth H. (creator of The Art of Hidden Messages):
I have created a new armchair treasure hunt booklet titled, "Treasures: Art and Poetry, Unlock the Clues". It is a 20 page, 8.5" x 11" all color booklet that contains eight separate puzzles/hunts. Each hunt leads to an interesting location in the continental United States. There is no need to travel to the location to search for your treasure. With the booklet, the prizes can all be claimed from the comfort of your home. Detailed instructions and rules are inside the booklet.
Before you can claim your treasure, you must search the art and poems for clues to the secret location. It might take some research and possibly some decoding of ciphers.
There is a total of $700.00 US Dollars in cash prizes waiting to be found. One person can claim all of the prizes if they are skilled, or lucky enough, to solve all of the puzzles.
I was hoping to keep the price of the booklet under $10.00, but unfortunately, that was impossible. With the cost of printing, prizes, envelopes and shipping, the cost for anyone in the United States will be $14.00. That includes shipping. For anyone in Canada, the cost will be $15.50. For the UK, Australia, Japan and Holland, the cost will be $17.50. For those from any other country, please email me at TheArtofHiddenMessages@gmail.com
Right now, I am taking pre-orders for the booklet through PayPal. I would like to try to get 50 orders, then I will mail them all at once, so that everyone can start the hunt at the same time. It also gives me time to organize all the orders since this is something new for me. The PayPal link is
www.paypal.me/ArtofHiddenMessages
You will have to provide your mailing address and enter the proper amount of US Dollars for your country.
I will use TheArtofHiddenMessages facebook page to give updates on the hunt and announce when and what puzzles have been solved.
Also, I have only printed 125 booklets, so order now to get yours, as I don't plan to do a second printing.
Preview of Cover: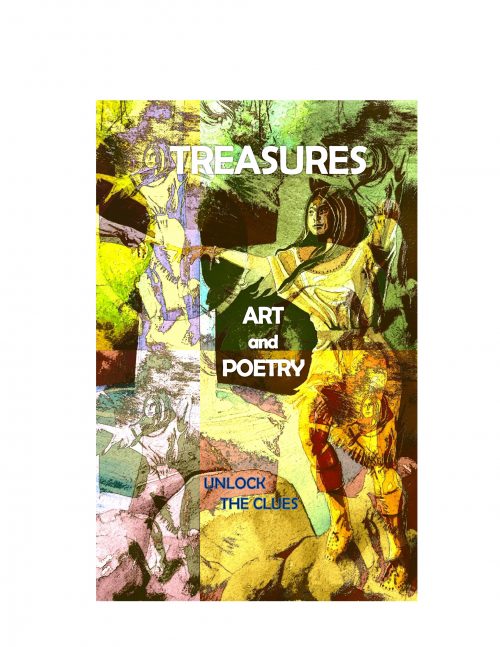 Preview of Back of the Book: