Post by Deleted on Jan 25, 2019 15:13:37 GMT -5
Hello again all! A few days ago, I posted the complete text (albeit missing formatting and capitalization) included in the prelude's image puzzle. However, this text was solved using online deciphering tools, which still left some confusion over how the verse related to the encrypted text. But thanks to the diligent collaborative work done by
the newly-created Facebook group
- and a few hints dropped along the way - we've pieced together the solution.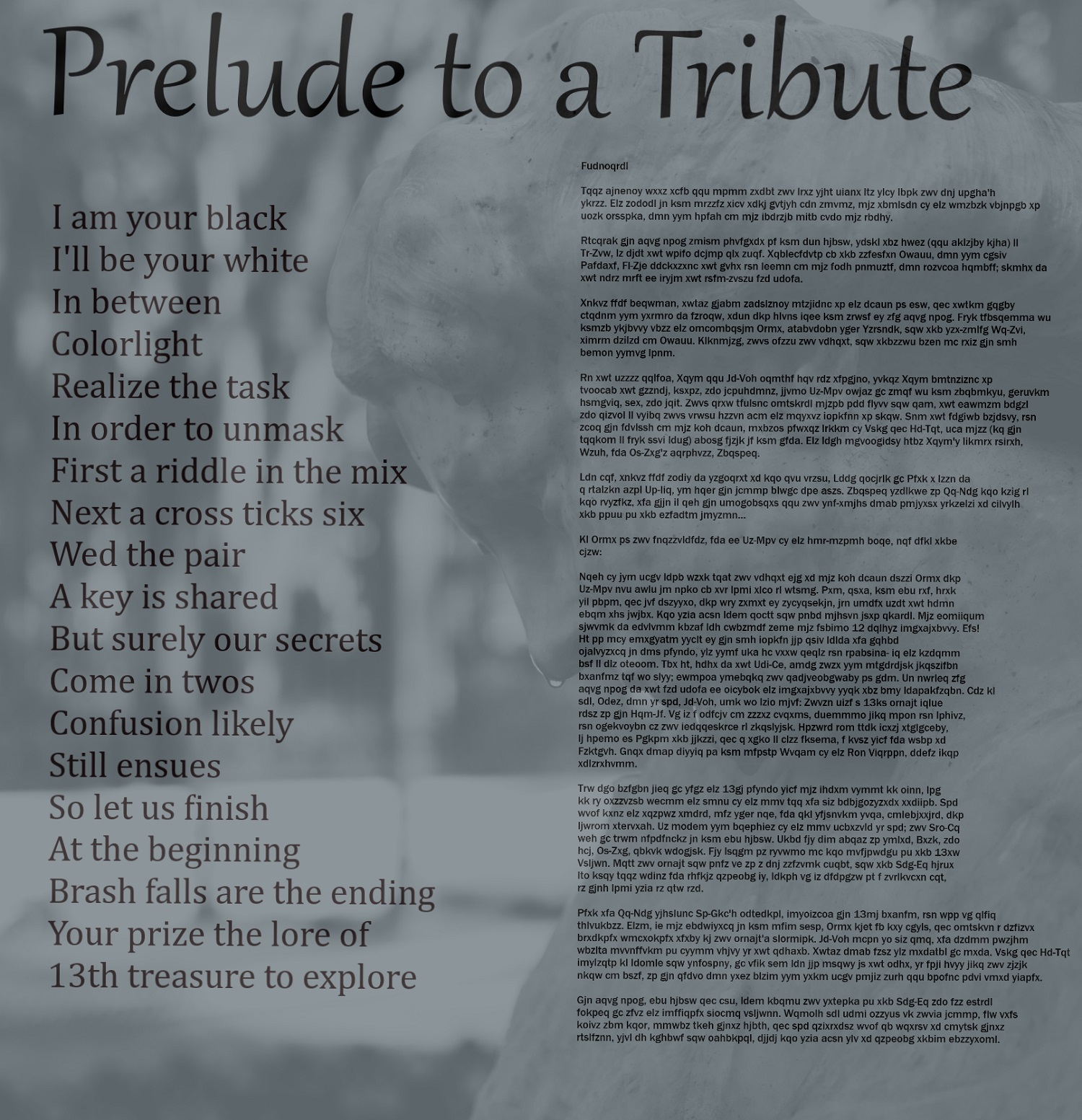 Realize the task
In order to unmask
First a riddle in the mix
Next a cross ticks six
Wed the pair
A key is shared
This is the section of the verse which gives us our starting point. In order to decipher the text, we need two parts: the answer to a riddle, and the answer to an acrostic puzzle ("a-cross-ticks"). Together, they will form a key which deciphers the paragraphs to the right.
First a riddle in the mix

I am your black
I'll be your white
In between
Colorlight
The first part of the key is a simple riddle. 'In between' the colors black and white is grey. This is also backed up by the line describing the riddle as "in the mix". 'Mixing' black and white together also gives you grey. So, the solution to the riddle is "grey".
Next a cross ticks six

The first 'six' lines of the verse also spell out a cryptic acrostic.
I am...
I'll be...
In...
Colorlight
Realize...
In order...
IIICRI
- "III" is a group of consecutive letter I's. "I's" sounds like "eyes".

- As for "CRI", C+R+a long "I" sounds like "cry".
"Eyes cry". What do eyes cry? Tears. The solution to the acrostic puzzle is "tears".
Wed the pair
A key is shared

Our pair of solutions put together give the key: "greytears". This matches the background image of a weeping grey statue. The most well-known cipher requiring a key is definitely the
Vigenere.
So, we should decode the text using the Vigenere key "GREYTEARS", but...
But surely our secrets
Come in twos
Confusion likely
Still ensues

Decoding using our Vigenere alone results in only nonsense, just like the verse predicts:

"Zdzpvmrmt

Nzmb hfnnvih szev xlnv zmw tlmv hrmxv gsv uzri ulop urihg hvg ullg fklm gsv mvd dliow'h
hsliv. Gsv zxlimh lu gsv ulivhg tild rmgl nrtsgb lzp givvh, gsv ziilblh lu gsv wvhvig xifnyov gl
wvvk xzmblmh, zmw gsv drmwh lu gsv kizrirv vevi yvmw gsv tizhh... (etc.)"

Just as finding the key required two steps, so does the decryption...
So let us finish
Ahead is our last step.
At the beginning
Brash falls are the ending
These two lines provide two parts of another clue, similar to the way clues are delivered in a
cryptic crossword.
- "At" is the beginning.
- "Brash", the ending. But, "falls are" cryptically instructs us to "drop" the "are" ("R"). "Brash" without the R is "Bash".
Your prize the lore of
13th treasure to explore

"Awakening

Many summers have come and gone since the fair folk first set foot upon the new world's
shore. The acorns of the forest grow into mighty oak trees, the arroyos of the desert crumble to
deep canyons, and the winds of the prairie ever bend the grass... (etc.)"