Post by Jenny on Jan 20, 2020 15:03:15 GMT -5
Permission granted by forest_blight to post his and Stercox's solution
Station XII (date unknown, p. 106)
ST. PATRICK'S PURGATORY, LOUGH DERG. It is said that, during his missionary work in Ireland, St. Patrick went to the island in Lough Derg and stayed in a cave there. During this time, he was subjected to many temptations and was given a vision of hell -- hence the name sometimes given to the island: St Patrick's Purgatory. This famous dream cave is a special place of peace and personal challenge. This small lake-island, renowned in Irish Christian tradition since the time of St. Patrick, has been receiving pilgrims continuously for well over 1000 years. The precise location of St. Patrick's Purgatory is unclear. There are two islands in Lough Derg: Station Island, the larger of the two, and Saints Island. Both comprised the site of a single Celtic monastic community and may have been located on the site of a still earlier pagan magical place. The location of the entry in legend seems to have been on Saints Island, though confusion of the two islands became common, and Saints Island seems to have been the preferred location through the Middle Ages. Additionally, it was a principal landmark on medieval maps of Ireland and the only landmark for Ireland labeled on the World Map of 1492. St. Malachy, archbishop of Armagh, did set up in the early 1130s on Saints Island a dependency of the Abbey of Saints Peter and Paul, Armagh, under the control of the Augustinians Canons Regular, who certainly had been established, by St. Norbert, by 1100. Eventually the Canons assumed authority over both islands until the site was taken over by the Franciscans in 1632. Note that there are two Lough Dergs in Ireland. This one is the smaller, in County Donegal.
Pg 106. "...out yonder lies the isle. Holiness lies in every rock and rill."
Pg 108. "'You know the cave?' I asked. He nodded and changed course slightly."
Pg 109. "I resolved to find my vision on the third and final night."
The classic Lough Derg Pilgrimage lasts for three days. The pilgrim undertakes to begin fasting at midnight on the first day and travels to the island by boat during that morning. Once there, they remove all footwear -- for the pilgrimage is undertaken barefoot.
Pg 108. "Still, it was a place of revelation."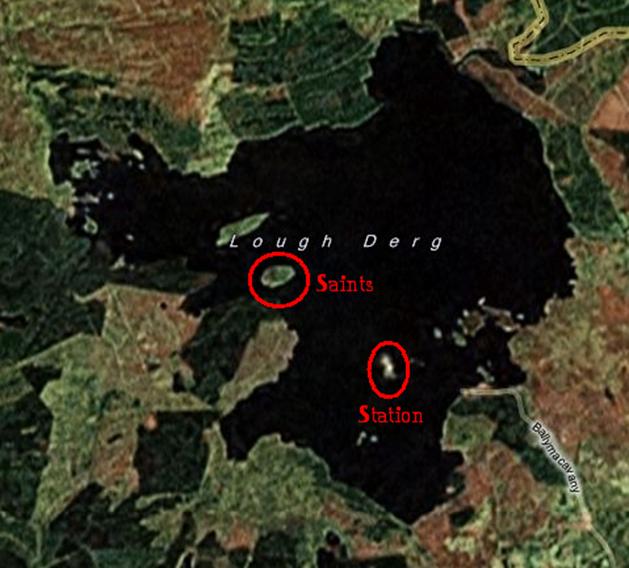 .