Post by Jenny on Jul 26, 2020 15:43:46 GMT -5
THE SECRET COPY CAT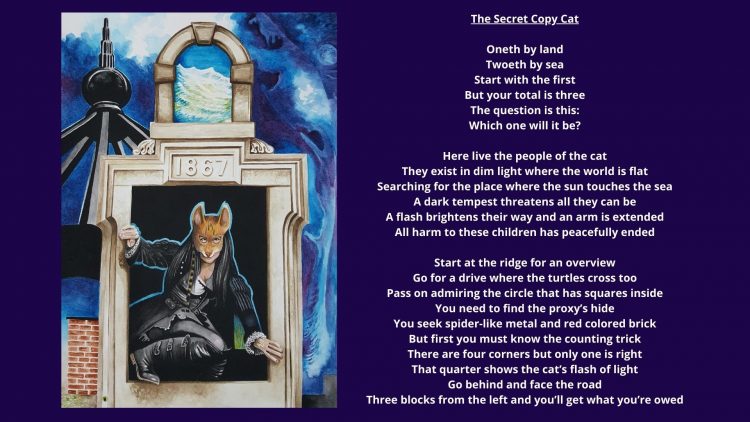 LINK TO PDF OF IMAGE (To view larger)
The Secret Copy Cat
Rules for the Treasure Hunt

This is a FREE HUNT.
Anyone can participate.
Donations are being accepted to help with the cost of art supplies, prizes, and shipping of the prizes. You can send donations to PayPal at TheArtofHiddenMessages@gmail.com Your donations are appreciated! The money affords me to keep making treasure hunts and giving prizes along with them.
This hunt is somewhat similar to "The Secret", however, I am using a proxy item, and only one illustration and only one poem. A proxy item is hidden in place of a treasure somewhere in the continental United States. There is an illustration that contains clues to the location of the proxy item, and there is a poem that also contains clues to the location of the proxy item. You will use these together to determine where the proxy item is located. If you are following the clues correctly, you will know exactly where the item is, down to a 3 inch by 3 inch area.
The proxy item will be easily identified, as it matches the theme of this hunt. When the proxy item is found, the winner must take a photo of it, and send it to TheArtofHiddenMessages@gmail.com with the heading, "Proxy Item Found". There can be only one winner, the person who has the proxy item in their possession. If you are working as a team, it is up to the players to determine how to divide the prize. The prize will be sent to the person who sends in the photo of the proxy item with their address.
There is no need to go on private property, into cemeteries, or in any dangerous areas. This is in a public place and easily accessible. Let me say that again, IT IS EASILY ACCESSIBLE and in a PUBLIC AREA.
This puzzle is not very difficult, so I don't expect it to take very long to solve. I do not plan to give out hints. There is enough information in the poem and illustration to solve for the location.
I will post updates on the facebook site, The Art of Hidden Messages, and on the Mysterious Writings Forum.
The prize, like with "The Secret" is a gem. The gem for this hunt will go along with the theme, and is a Cat's Eye. There will also be a one gram silver bar with a picture of a cat on it. Also included will be the original painting used for this hunt. It is a watercolor, and measures 12.125 inches in height by 8.5 inches in width. The prize items will be mailed to the winner, with tracking.
Thanks for playing, and good luck!