Post by Jenny on Apr 6, 2021 6:55:59 GMT -5

The Story Behind the Annual Masquerade Tribute Token is the Story Behind "Masquerade"
The art on the First Annual Masquerade Tribute Token was done by artist Beth Hovanec. Her art for the token was inspired by the fictional story in "Masquerade" itself.
"Masquerade" was written by Kit Williams, and was published in 1979. It is now known to be the first armchair treasure hunt book ever written. The book not only contains a treasure hunt, but it is a love story too! In the book, the moon is in love with the sun. The moon asks the fastest creature it knows, Jack Hare, to deliver a token to the sun. The story is about Jack's journey.
Depicted on the front of the token is a mask of Jack Hare, similar to one that we see on the cover of the original book. The back of the token shows the moon and the sun, circled by leaves that are changing color. The text on the edge of the token reads, "Mysterious Writings" and "The Art of Hidden Messages". These are the two people, Jenny Kile, and Beth, who came together with seven other fantastic treasure hunt creators, to bring you the nine Masquerade Tribute Hunts.
These tokens are made with a special polymer that mimics the feel and sound of ceramic. The customized image is part of the token.
We hope that every year we can bring you a new and unique design!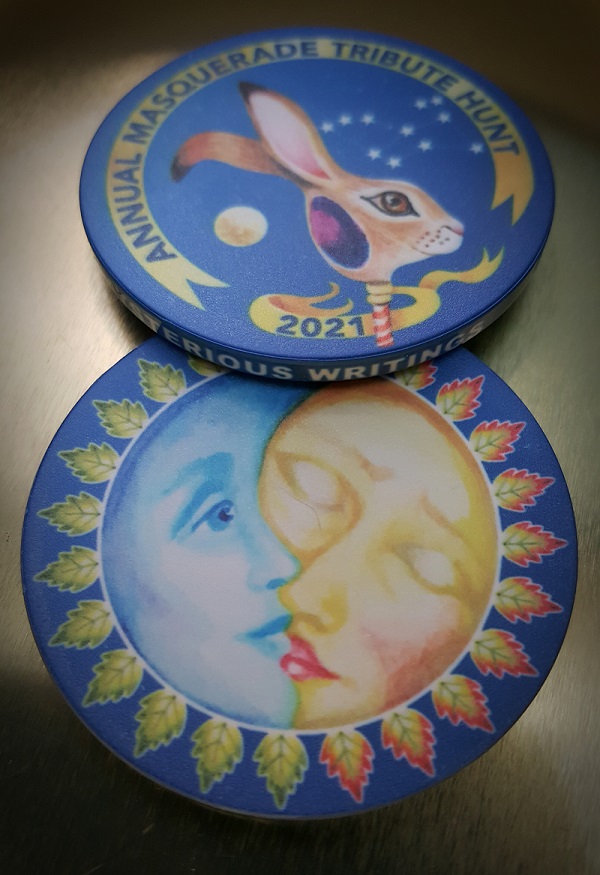 The winner of each of the NINE treasure hunts in The Masquerade Tribute will be awarded one of Tribute Tokens, commemorating the First Annual Masquerade Tribute Hunt! These Tribute Tokens are an additional 'Treasure' for each of the hunts.
If you would like to purchase one as a Keepsake, we do have a limited quantity.
*Please note: Tokens will be mailed only to those with an address in the Continental United States.
Payment is to be sent to The Art of Hidden Messages paypal. CLICK BELOW. Please note 'Purchase of Tribute Token' and include the correct amount:
Purchase Tribute Token
$10.00 for Registered Searchers of the Tribute
$29.95 for Non-Registered Searchers
Thank you all for making The Masquerade Tribute: A Collection of Nine Treasure Hunts for Charity the event of the year! The first annual Tribute (Nine Hunts) was released 3/20/21!
Until the last hunt is solved there is time to Join the Adventures! More info on joining The Masquerade Tribute Hunt here:
The Annual Masquerade Tribute Page