Post by wymustigo on Feb 16, 2017 16:11:06 GMT -5
EDIT: Be sure to read all the comments from me below, I added more info.
This is debatable, not sure if it is messing with the poem when no words or anything changed. I am not going to delete it this time.
My keyword was "treasure" because the treasure is alone in the poem, it keeps its location secret twice in the poem, it is bold in the poem, and it hints of riches new and old. It is also the longest word (9 letters) in the poem, all others < 7 chars.
It was used twice because it is plural, once for riches old and again for riches new.
This picture is only 1/2 of what is needed, you need to do more work to find the chest. The blaze (Omega means END of series, here it has end twice and crosses over the "treasure").
What is done: Shift the lines right (except for one), the poem was read and the actions were taken shifting (putting in) lines below the home of brown as instructed by the poem (read the poem, do what it says).
This theory was not all mine, SamSmith used a different word (and only used it once), and also moved different lines, but he is where the idea came from so I give him credit. I posted my version taken in my app, I will not post anything he told me, that is his and he isnt willing to sign a partner agreement even though we did agree on 50/50, so I have no partner. Even though we are not partners and he would not agree to terms (other than 50/50 which we both agreed), if I find the chest with this method I will probably give him a very large part if not 1/2.
This is obviously not a complete solution. I did a ton of research and chose the wheel in one of my solves way before I talked to Sam, and I also thought "treasure" is the word that is key, but this is one way that can be used to verify WWWH right in the poem itself and unlock 9 words. It probably doesn't matter because most people are going to write it off as messing with the poem or argue that warm waters do not halt at the T in halt
Have at it
Notes: The chest is NOT at the wheel, please do not dig sacred ground! Paddle up your creek is shifted left because if it is in the RED keyword column you will be up shits creek. Also "treasure" is used twice in the column because the word was plural indicating used twice, as well as riches OLD and NEW. Think of pushing things to the right as going into the treasure (for example I must go was sent right into the treasure).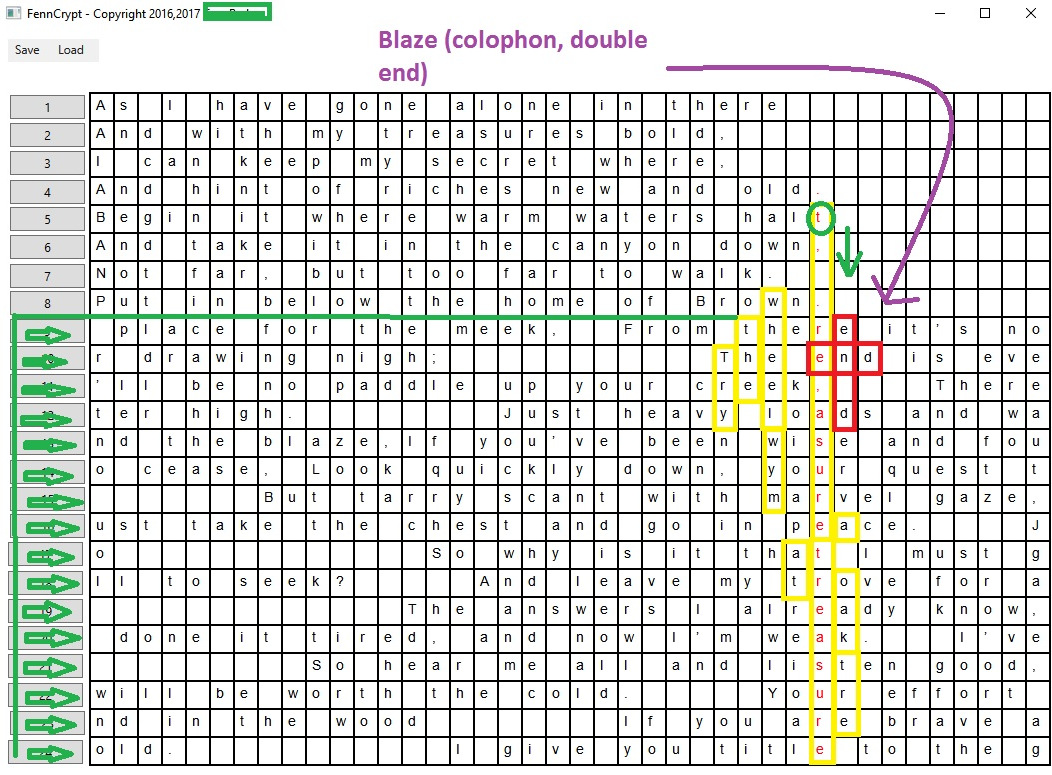 PS: I was thinking of giving away the app, it makes shifting the poem around easy. But I don't know yet, and I have no place to host it. See my post below for a Bonus to change line 16 from using the E in pEace to the E in ThE (just take thE)