Post by Jenny on Nov 19, 2018 7:58:38 GMT -5
EDIT: UPDATE: HUNT WILL BEGIN IN MAY: MORE DETAILS COMING
Will share more info when it comes available---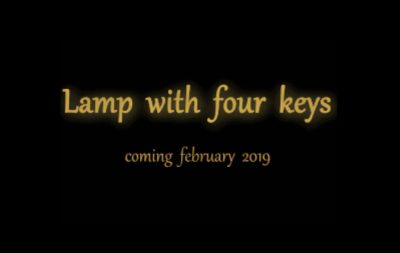 From the Creator- Laura McKey
My secret project. I am making this puzzle, which is in the form of a LAMP that you can actually hang up in a room. It is a real labor of love for me. As the title says, this is a lamp with four keys hidden inside it. You can find them, but you have to really think! I have always been a big fan of armchair treasure hunt books, although I've never been good at solving them myself. I loved working on the "Treasure's Trove" hunt by Michael Stadther. I was one of the hundreds of people who went on long wild goose chases looking for the hidden tokens of the twelve forest creatures. I also loved "Masquerade" by Kit Williams, and "Maze" by Christopher Manson. (If you haven't heard of any of these, you can look them up online to see what I mean.) And this past year, I tremendously enjoyed getting totally stumped in the "Harlequin Army" from the British Armchair Treasure Hunt Club, and also the wonderful "Art of Hidden Messages" hunt from my friend Beth.
So I decided to make my own armchair treasure hunt!
This is the first time anyone has made a puzzle in the form of a lamp. (At least that I know of.) Some of you know that I had already been making many crafts for
www.facebook.com/ChickenJungle
This is a continuation of that endeavor. You can see photos of some of my previous creations there. This lamp is something different and unique. When I finish these lamps, I will probably have them available in that Etsy shop, and also on Ebay. I have 35 lamps started, and I plan to finish these 35 lamps by February. I will start taking reservations for the 35 lamps sometime before then. The price will be comparable to the other things I've had in my Etsy shop.....around $35 to $40. **All of the proceeds from these first 35 lamps will be used for the prizes to the winners of this puzzle.** That's why I'm saying that this is largely a labor of love. After I finish the first 35 lamps, I will make more lamps, and mail them out as long as people order them, or until all the puzzles are solved. The puzzles are really challenging, but they are all solvable!
There are four keys hidden inside the lamp. You can find them, but you have to think! For each key, there will be a cash prize for the first person to find it. After you find all four keys, you can solve the main puzzle. The first one to solve the main puzzle at the end will win a cash prize of $1000.
The hunt will not start until all the participants in the first group have received their lamps in the mail. After everyone has received theirs, I will post an easy clue to give everyone what they need to start on the first puzzle. The first one to submit the answer to the clue will win a real old-fashioned lamp key for a keepsake....the kind that was used long ago to light lamps!
I will post more photos later. I'm keeping it secret right now the exact form this lamp will take, but I have finished the top parts of the 35 lamps!