Post by Jenny on Aug 5, 2018 13:28:22 GMT -5
SOLUTION 3B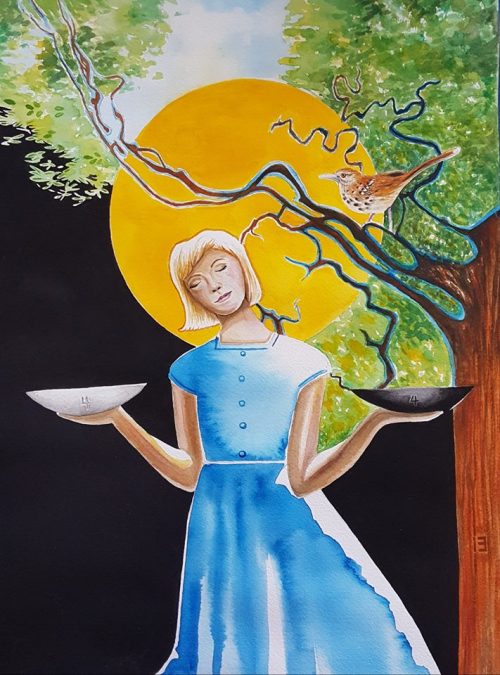 Answer: The Bird Girl Statue (or "Little Wendy") in Bonaventure Cemetery, Savannah, Georgia (or I would have accepted Telfair Museum in Jepson Center for the Arts, also in Savannah)
I WAS BORN OF MAGIC
MANY TIMES OVER
In the book, "Midnight in the Garden of Good and Evil" the hour between 11 and midnight was the "magic" hour.
I MODELLED FOR A PHOTO
LANDING ON COVERS STANDING ON CLOVER
Jack Leigh, a photographer, took a photo of the "Bird Girl" or "Little Wendy" statue that was in the Bonaventure Cemetery. This photograph was used for the cover of the book mentioned above.
BECAUSE OF MY FAME
ADMIRERS FLOCKED TO SEE
TINY ME
Because of the book, the statue itself became famous and people came (flocked = bird) to see the statue. The girl who modelled for the statue, Lorraine, was said to be tiny and slight.
I COULD NOT RUN
I COULD NOT FLEE
The statue, of course could not move, as it was not real
BUT I WAS TAKEN
FROM THAT SITE
The statue had to be removed from the cemetery because so many people were coming there to see it. It was moved to the Telfair Museum.
JACK
HE CALLED ME MIDNIGHT
Jack, the photographer, gave his photograph of the statue a title, it was, "Midnight".
BUT WHAT WAS MY REAL NAME?
LORRAINE
The girl who modelled for the statue was named Lorraine
ON THAT SCENIC BLUFF I STOOD
FOREVER CAPTURED IN CHILDHOOD
Bonaventure Cemetery is said to be situated on a scenic bluff
NOW JACK
LAY WHERE I ONCE STOOD
Jack Leigh (lay) is the name of the photographer. He is now buried in that same cemetery
CLUES IN THE ARTWORK:
The painting shows the "Bird Girl" (only in reverse and in color).
The bird girl's skirt is the shape of Georgia. The bird in the painting is the Brown Thrasher, Georgia's state bird. It is the state tree that is also pictured. The tree's branches are in the shape of the Savannah River at the border of Georgia and South Carolina. The girl's right eye would be the approximate location of Bonaventure Cemetery.
The black/dark and the light symbolizes the "good and evil" form the title of the book, "Midnight in the Garden of Good and Evil".
The numbers of the zipcode can be found in the painting. There are 4s on each bowl. The sun is a zero. And there is a 13 on the tree. The zipcode for the Bonaventure Cemetery is 44013.
Lastly, this is illustration B, for Bonaventure and Bird Girl.