Post by Jenny on Aug 5, 2018 13:50:30 GMT -5
SOLUTION 9E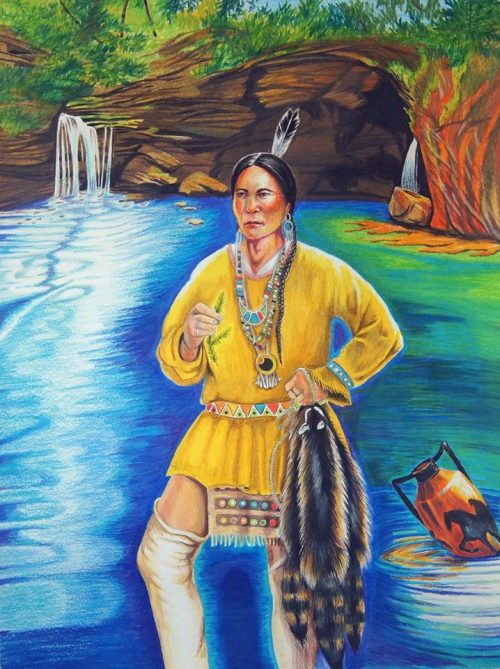 Answer: Frankfort Mineral Springs, Raccoon Creek State Park, Pennsylvania
PINE OF WHITE A NEW FOCI
The Eastern White Pine or the "Tree of Peace" was a symbol for the Five Nations Confederacy.
THE 1143 ECLIPSE HIGH
A total solar eclipse of August 22, 1142 coincided with the birth of the Iroquois Confederacy, oldest democracy in North America and possibly on Earth
WE ARE MANUEL S. DOMINGUEZ SUBJECT
"The Death of Seneca" is a painting by Manuel S. Dominguez, and pictured in that painting is the vase that is in the illustration. The poem is about the Seneca people. This confirms that you are on the right track.
WHITES CAME ALONG AND FORCED AN EJECT
The white man forced the Seneca people to move
ONCE AGAIN FORCED TO ROAM
WE FOUND THE LOCATION OF OUR NEW HOME
WEST OF A + M = O
The Allegheny River and the Monongahela River meet to form the Ohio River (at Pittsburgh). The Seneca people moved west of here.
OUR NOGANYA'GOH CLAN DID GO
Nöganyá'göh (noh-gah-nyah-goh) is the Beaver Clan of the Seneca Tribe. The location is in Beaver County.
WHAT WE FOUND WAS TRULY GRAND
A HEALING SPRING IN A MAGICAL LAND
The Seneca people settled in the area of Frankfort Mineral Springs
pabook2.libraries.psu.edu/palitmap/FSprings.html
OUR PEOPLES' HOME WAS ON A GREAT HILL
The Seneca were called the "Hill People".
IT WAS THERE WE SETTLED WITH FREE WILL
WORD OF THE MAGIC SPREAD THROUGH THE AIR
The spring was said to have magical healing powers.
IT WASN'T LONG BEFORE THE WHITES CAME HERE
VICTORIANS FLOCKED TO MYTHICAL SHOWERS
BECOMING DRENCHED IN CURITIVE POWERS
A resort was built at the natural springs.
www.youtube.com/watch?v=Lk_YMggDCEw
www.timesonline.com/artic…/20160301/Opinion/303019980
I HAD NOT SURVIVED THE ERA VICTORIAN
YOU MUST NOW ACT AS A HISTORIAN
You must try to figure out the history in the clues of this poem.
CLUES IN THE ILLUSTRATION:
The illustration shows a Seneca Indian in typical Seneca dress. He holds a small spring of pine in one hand. In the other he has raccoon pelts, for Raccoon Creek State Park. The vase is from the painting, "The Death of Seneca".
The round part of his necklace shows an eclipse.
In the water you can see the zipcode 15050.
The spring in the background matches the locaton.
Also, there is a Bacon Code in the light blue colors of his necklace, his wrist band, his belt, and the dots on his skirt.
ABABB
AABAA
ABBAA
AAAAA
AAABA
AABBB
ABAAB
It is MENACHK, and means Pittsburgh.