Post by Jenny on Jan 20, 2020 14:43:41 GMT -5
Permission granted by forest_blight to post his and Stercox's solution
Station VII (April 15, p. 74)
Artemisia, borage, honeysuckle, and yellow jessamine grow in this place, as well as tiny, white-winged butterflies. At least one of the stones is lying down. Rooting around the base, Ibn finds a copper dragon with a coin as an eye (see p. 77). The girl Lind travels north with them for several hours, entering a wood with a single standing stone, very tall. There they meet the Old Ones, who show them the way to Station VIII.
Magnalucius says at one point that he is sketching the stones, and indeed we see his sketch of three menhir, and later the standing stone where they meet with Lind's "forest friends."
Because this station is titled "The Stone," we seek one stone from the many mentioned. "Finally Lind stopped and pointed at the great corpse of fallen stone half-buried in a mass of yellow jessamine and twining honeysuckle." Could this be the "stone" of the title? There are any number of fallen stones, so how do we know which one? They seek the "Longstone of Ursus," which is presumably where the tooth had been hidden, so the "the stone" of the title must refer to the fallen stone, not the standing stone.
The longstone of Ursus could have been any of the prostrate stones, but on April 30 they head north on a well-worn trail several hours to a deep forest of oak. They dismount and enter a narrow track in the trees, go up a low hill, and see "a solitary rock raised up, all girt with ivy, so that we could scarcely see its top." Even though this is not the Longstone of Ursus, its presence may serve as a clue of the whereabouts of the former.
Carnac, France is renowned for its megaliths or "Menhirs", derived from a Breton word (brythonic branch of the insular Celtic languages) for Long stone. There are over 3,000 such stones in this area of France (Celtic Brittany) with early astrological ties to the ancients.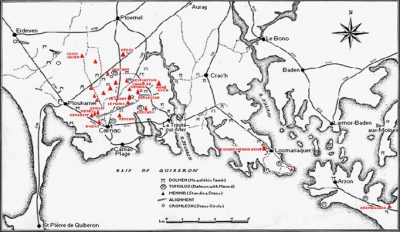 Regarding the menhirs of Carnac, Wikipedia: "The largest surviving menhir is at Locmariaquer, Brittany, the Grand Menhir Brisé ("Great Broken Menhir") which was once about 20 meters high, somewhat southeast of Carnac in Locmariaquer. It lies broken in four pieces (due to an earthquake of 1722, but was it standing at the time?) but would have weighed around 330 tons when intact and is thought to be the heaviest object ever moved by humans without powered machinery." It could be the prostrate stone or the standing one, depending on its disposition in 1517. It was almost certainly standing at the time, otherwise it would not have broken in the 1722 earthquake.