Post by Jenny on Mar 2, 2023 15:22:49 GMT -5
OVER $2000 in TREASURES TO CLAIM! AND GROWING.... as other Hunts and Puzzles being UNLOCKED!
Each year Armchair Treasure Hunters come together as a community to participate in the annual Masquerade Tribute of Hunts for Charity. All proceeds of this yearly event are given to charity. The event is to honor not only the 1979 treasure hunt entitled Masquerade, which coined the term of 'armchair treasure hunt', but to pay tribute to the entire hobby.
Multiple Treasure Hunts for The Annual Masquerade Tribute are released on the Spring Equinox. Clues are given in each of the hunts for their individual treasures. The first person/s to solve the clues can claim the treasures. Hunts vary from being fully armchair or BOTG. For the last two years near $8500 has been given to charity! THANK YOU ALL!
The 2023 Masquerade Tribute is scheduled to be released 3/20/23. Below are more of the exciting details:
---
Three different mini puzzles offer pre-hunt fun - the first one to be released 3/8 and holds a $100 prize (amazon gift card). Two others will follow on 3/12 and 3/16. Prizes for these TBA. Stay tuned!
On launch - 3/20/23 - Three different Hunts will start off the adventures - each with at least $400 Treasure to claim!
When donations exceed certain levels - MORE HUNTS AND PUZZLES will be released. Their release dates and prizes TBA.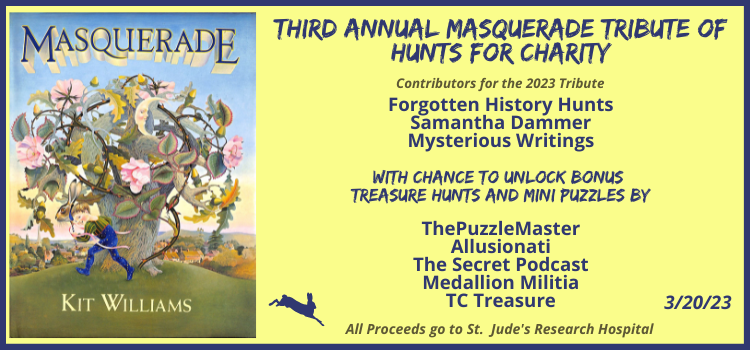 Donate Today
Don't miss out on any of the fun!
The above special link will take you directly to St. Jude's Page. Donate a minimum of $19.79 to gain access to all Treasure Hunts and Puzzles released in the 2023 Third Annual Masquerade Tribute. This includes all hunts that might yet be UNLOCKED. Larger donations accepted. In NOTES when donating, please include your MW Forum Username, and your address, if receiving a FREE Hare Souvenir Charm (sent to all those who donate $40 or over).
This step of including your MW Forum USERNAME is in order to be granted access to the Tribute's Private Hunt section on this forum- where the Hunt and Puzzle Materials will be released – beginning with a Mini Puzzle with prize of $100 (Amazon Gift Card) on 3/8/23. By registering for the hunt, you accept the rules, terms, and conditions.
---
Below is the schedule of events:
$0-$999 in donations:
THREE different Treasure Hunts released on 3/20. There will also be THREE different mini puzzles. One released 3/8, another released on 3/12, and the third on 3/16. These Treasure Hunts and Mini Puzzles are being generously donated by Samantha Dammer, Forgotten History Hunts and Mysterious Writings.
Then there are other Treasure Hunts and Mini Puzzles to be UNLOCKED:
$1000- $1978 in donations- 4th Mini Puzzle UNLOCKED – by ThePuzzleMaster – release date TBA UPDATE: 4/20/23
$1979-$2499 in donations– 4th BONUS Treasure Hunt UNLOCKED – by ThePuzzleMaster – release date TBA UPDATE 6/20/23
$2500-$3499 in donations – 5th Mini Puzzle UNLOCKED – by THE SECRET PODCAST – release date TBA
$3500-$4999 in donations– 5th BONUS Treasure Hunt UNLOCKED – by MEDALLION MILITIA – release date TBA
$5000-$6499 in donations – 6th Mini Puzzle UNLOCKED – TC TREASURE
$6500-$7500 in donations – 6th BONUS Treasure Hunt UNLOCKED – TBA
EDIT/UPDATES 3/9/23:
NEW LEVEL ADDED: $1500 in donations: 4.2 Mini Puzzle by Allusionati - release date TBA UPDATE 5/20/23
TC TREASURE has been announced to be the treasure hunt creator at the $5000 level.
Prizes for some of the Hunts and Puzzles are also being donated by The Art of Hidden Messages, Davesscrabblegrams, The Hope Chest, The Incredible Hunt, CopperDan. (more may be added).
Sneak Peek at ONLY some of the prizes in the hunts. More will be revealed in coming weeks.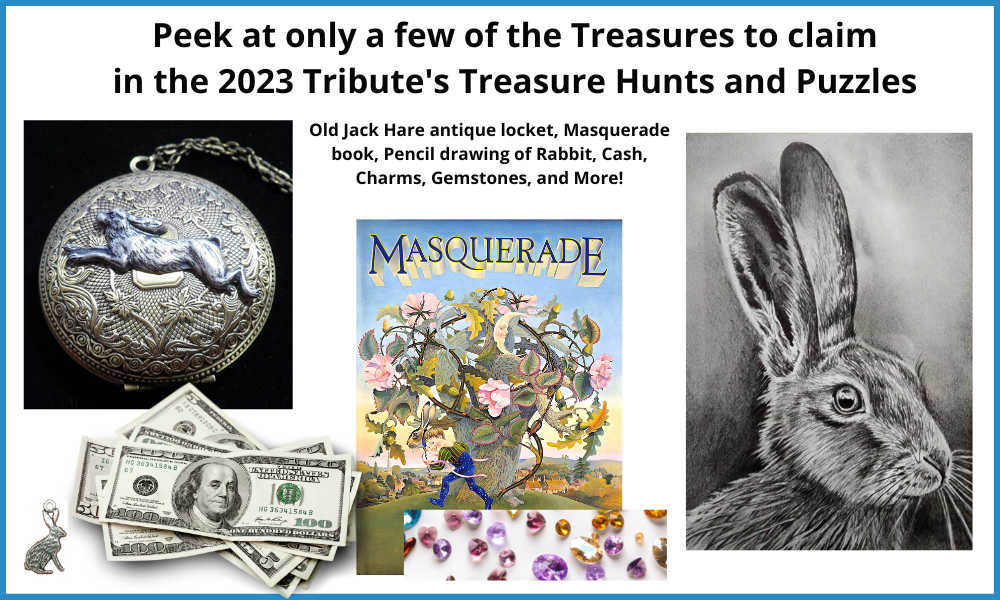 ---
Also- THREE TIMES A CHARM! The souvenir for the Third Annual Masquerade Tribute is a HARE CHARM – comes with COA. Anyone who donates over $40 will receive this FREE! When donating, please include address in notes to be sent the 2023 Masquerade Hare Charm.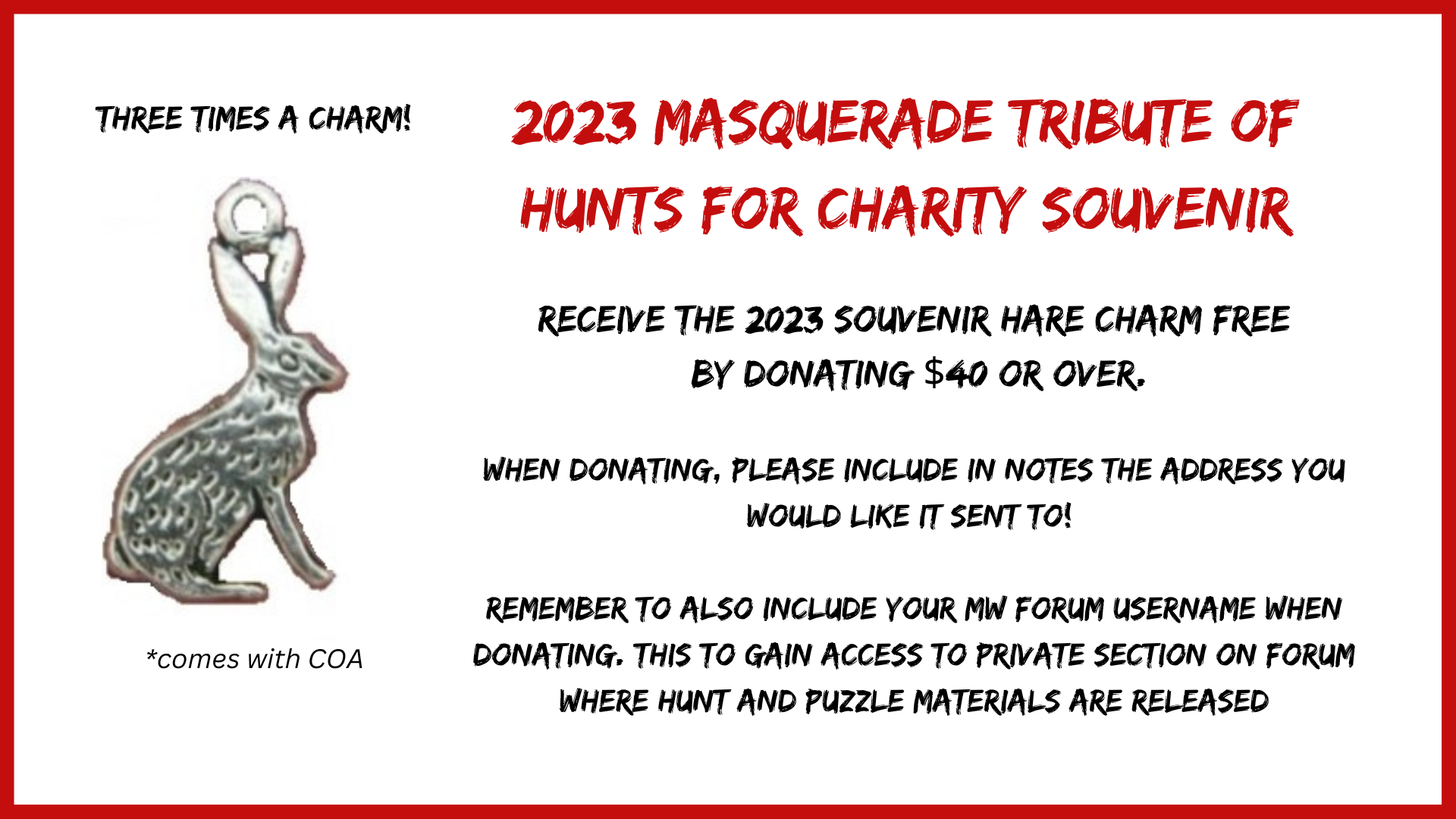 By registering for the 2023 Masquerade Tribute you accept the rules, terms, and conditions. No purchase necessary for drawings. see terms for alternate entry method.